Which is the Best Magic Wand Vibrator?
Running off mains-power, rechargeable power or large batteries, the sheer power of magic wand vibrators make them ideal sex toys when you find other vibes just don't cut it.
The classic magic wand design features (a large head to spread vibrations over a wide area, a flexible neck for extra precision and a rigid body that houses the controls) makes this toy ideal for intimate, as well as deep-tissue, massage - ideal as a couple's foreplay toy as well as your brand new favourite vibrator.
If you've ever struggled to orgasm with sex toys, magic wand vibrators may hold the solution for you.
Which is the Best Magic Wand Vibrator?
Lovehoney have a wide selection of magic wand vibrators, the strongest vibrators on the market. Just remember that when you get this amount of power in one product, there's a trade-off between sound levels and super-strong vibrations.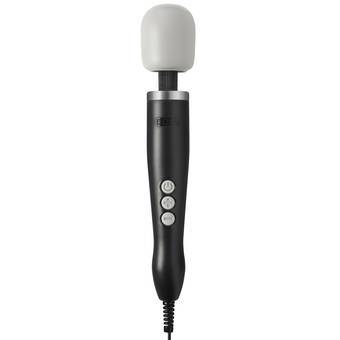 The crème de la crème of magic wand massagers, the Doxy Extra Powerful AUS Massage Wand Vibrator is possibly the best magic wand vibrator available in Australia. This wand comes highly recommended with over 25 reviews and a 9 out of 10 rating on our UK site.
With its firm head and range of speeds, the Doxy Extra Powerful AUS Massage Wand Vibrator gives you continuous vibrations from a gentle flutter to the most powerful and intense vibrations you've ever felt.
If you fancy accessorising your wand, there's tons of attachments you can try. Check out our guide: How to Choose Magic Wand Attachments.
If you prefer to go cordless, a battery-powered miniature wand like the Bodywand Aqua Waterproof Magic Wand Vibrator, Tracey Cox Supersex 10 Function Silicone Wand Vibrator, or Lovehoney 3-Speed Micro Magic Wand Vibrator are great choices. They also tend to come in at a lower price, so you can experiment with the sensations a wand gives without spending too much money.
At the other end of the price scale are the more stylish luxe wands. They have the benefit of being rechargeable, silicone and completely waterproof. As well as having multiple speeds, they boast patterns and other luxury features. Check out: Lovehoney Deluxe Extra Powerful Magic Wand Vibrator or the Mantric Rechargeable Wand Vibrator
One of the most famous wand vibrators is the Hitachi Magic Wand. The Hitachi Magic Wand (pictured right) was originally designed in the 70s as a two-speed muscle massager. Renowned as one of the most powerful vibrators ever invented, it quickly made its way into bedrooms the world over.
However, the Hitachi Magic Wand is not available in Australia. Because the Hitachi Magic Wand only comes in a 110v version and is not CE marked, it is illegal for it to be sold in Europe or Australia. But don't worry, Lovehoney's AU-friendly magic wand vibrators are in fact better than the original decades-old design.
Need more help?
You can Contact Customer Care, who will be able to help you find the perfect magic wand vibrator. You can email, telephone or live chat to an experienced advisor 24 hours a day, 7 days a week.
Contact Lovehoney Customer Care
---
You may also like