How to Care for Lingerie
To keep your lingerie in top condition, it should be stored, washed and dried with extra care and attention to keep it in top-notch condition. Whether your lingerie is made of lace, silk or high-quality cotton, you'll find your sexy lingerie lasts much longer if you take proper care of it.
The Lovehoney lingerie experts are here to guide you through getting the best from your lingerie. We've put together this handy lingerie care guide to keep your lingerie looking lovely!
Video: How to Properly Care for Lingerie
By caring for your sexy lingerie, you can keep it looking its best to enjoy for a long time. In this video by the Lovehoney lingerie expert, find out everything you need to know about lingerie care.
How to clean your Lingerie
Once you've worn your lingerie, you're going to want to get it clean and ready for its next use. First things first, check the care label, which is typically sewn into a seam. Always carefully read this label before washing your lingerie as it should guide the best type of wash for the fabric. Along with the following expert tips, always stick to the care instructions from the manufacturer.
To machine wash your Lingerie or not?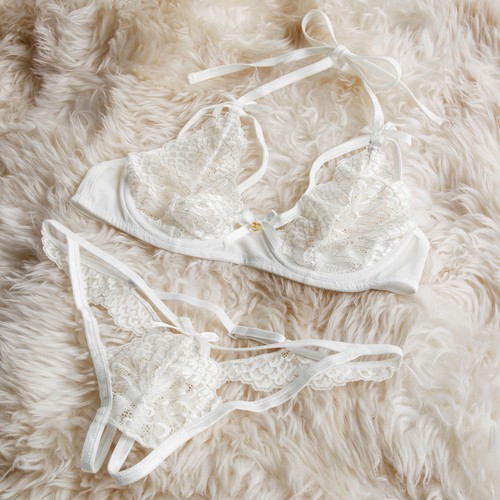 Many people agonise about whether it's safe to machine wash lingerie. In general, we advise only hand washing lingerie to keep it in tip-top condition for as long as possible. However, it will always depend on the type and quality of the materials used - be sure to check the care label before going rogue with your decision. For a rule of thumb, bustiers, basques and corsets should always be washed by hand with care.
If you choose to wash your lingerie in the washing machine, here are some tips to reduce any potential damage to your garments:
Follow the washing 101 rule: separate colours into white, dark and colours for each individual wash! You don't want your white chemise coming out of the machine a pink or miserable grey hue.

Only wash your delicates with similarly lightweight fabrics or completely on their own - save the jeans and towels for another load!

Inspect your machine settings and select the best option. For delicate garments like lingerie, it's usually a good idea to set the machine to a delicate or wool setting with a low water temperature and gentle spin cycle. The higher the temperature, the more likely your items will shrink or have the dye run, so it's best to stick to a cool wash.

For machine washable bras, fasten hooks and eyes to avoid tangling or snagging with other clothing items.

Place your garments in a net bag or a pillowcase before popping them into the machine. Without any protection, your bra underwiring can tear fabric and ruin your washing machine, and detailing on lingerie can get caught and ripped.
How to hand wash Lingerie and Delicates
There's no need to panic if your lingerie care label directs you to only hand wash. While handwashing may take a little extra effort, it's much better for the longevity of your lingerie goodies. Here are some simple tips for easy hand washing:
1. Start by filling up your sink with cold or warm (not hot!) water and add a small dash of gentle detergent or lingerie cleanser. Hot tip: baby shampoo makes for an excellent alternative to a special lingerie cleanser if you're on a budget.
2. Soak your lingerie for about 10 minutes before gently rubbing stained or dirty areas. Then, rinse in cool water until the water runs clear.
3. Treat your lace slightly differently from most other more sturdy fabrics - before you hand wash lace, you should take the time to pre-treat any stains. You can use a stain remover, but remember to check if it's suitable for use with lace.
4. Fill your sink with warm water, add gentle soap and delicately tend to the lace by moving the fabric around in soapy water with your hands.
5. After you have washed the lace, empty the sink and refill it with cool water to gently rinse the garment.
Do's and don'ts of drying Lingerie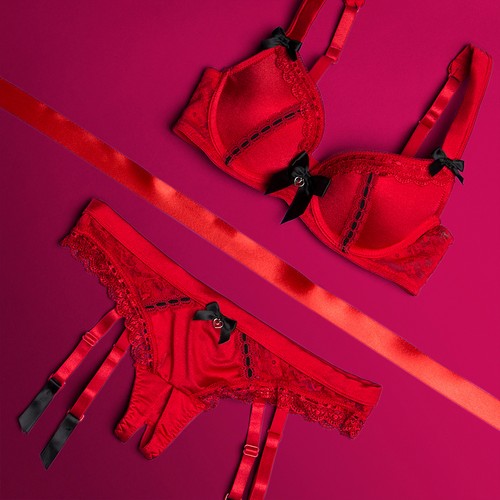 Do:
Line drying or a drip-dry method is always the best choice for drying your lingerie. Place your garment flat on a clothes horse in a well-ventilated area to dry naturally. Be careful when hanging your delicate fabric up as clothes pegs can leave marks.

If you want to dry a bra but are in a rush, try using a salad spinner! It's quick, efficient and won't ruin it as a hot tumble dryer might.
Don't:
Place your lingerie in the tumble dryer - the heat of the dryer breaks down the Lycra, spandex and elastic (which is what makes the fabric stretchy), which significantly shortens the lifespan of your lovely new underwear. If you accidentally tumble dry your delicates, you may notice that the lace can slightly disintegrate or unravel in areas.

Wring lingerie - wringing, even by hand, can cause wrinkles and creases which may be difficult to get out. Instead, gently squeeze out the excess water or press the garment between two clean, dry towels to remove the excess water and then allow it to dry naturally.

Dry your lingerie in direct sunlight - while it might speed up the drying process, you may find that your lingerie becomes discoloured and faded over time.
Recommended Lingerie Care Products
More Sexy Lingerie Advice
More Sexual Happiness Advice
You can never know enough about sex, right? Join us on our sexploration journey via the thriving Lovehoney forum, our weekly Sexual Happiness podcast and our blog.