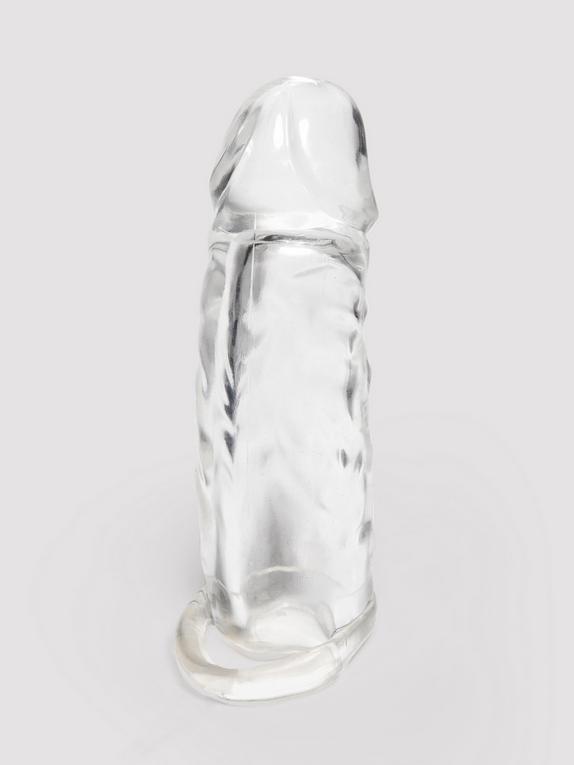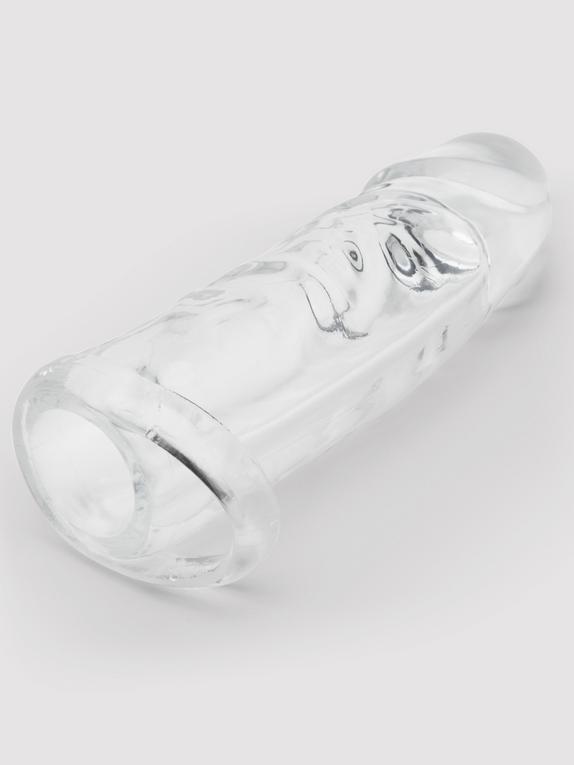 Lovehoney Mega Thick 2 Extra Inches Penis Extender with Ball Loop
Last chance! This product is not going to be re-stocked!
Girthy, clear view penis extender with ball loop to give you a wider, longer penis
Textured sleeve has pronounced veins and a bulky head for your partner's intense internal pleasure
Offers a filling 6.5 inches of girth plus 2 inches of extra length to fulfil size fantasies
Ball loop keeps the extender in place for long wear
Can help your erection last longer (results may vary)
Boost your girth to super-human proportions and up to 2 inches in length with this mega thick penis extender. Covered in bulging veins and a huge bulbous head for extra partner-pleasuring, keep your eyes on the goods thanks to the stretchy clear sleeve.

Simply add a little water-based lube to the inside of the extender, slip into the superhero sleeve and get ready to unleash the beast.
Essential Info

Allergens: Phthalate-Free
Features: Girthy
Waterproof: Submersible

How it Measures Up

Canal diameter: 1.5 inches
circumference: 6.5 inches
Internal Length: 5 inches
Length: 7.5 inches

How it Feels

Flexibility: Flexible
Material: Soft Plastic
Product videos
Boost your girth to super-human proportions and up to 2 inches in length with this mega thick penis extender. Covered in bulging veins and a huge bulbous head for extra partner-pleasuring.
Penis Extender & Enlarger Advice
If you're looking for sex toys to help you get a bigger penis, our advice guides are here to help you get started in the easiest possible way.
Frequently bought together
Popular combos for more sexy fun
Customer reviews
4.5
4.5 star rating
206 Reviews
4.5
4.5 star rating
206 Reviews
Thank you for posting a review!
We really appreciate your opinion and hope to see you again soon.
Thank you for posting a review!
Your review was sent successfully and is now waiting for our staff to publish it.
Search reviews
5.0 star rating

4.0 star rating

3.0 star rating

2.0 star rating

1.0 star rating
Way bigger than shown on pictures
Review by Verified-Customer on 4 May 2021
review stating Way bigger than shown on pictures
Much bigger than pictured.
I am an average guy, and struggle to get in. Took me about 10 minutes to put on, and way too tight, blood flow stops after 2-3 minutes.
Pros:
Feel and texture. Well made
Cons:
Way too tight. Can barely fit in it
On Lovehoney Mega Thick 2 Extra Inches Penis Extender with Ball Loop
Wet & wild
Review by Mr G. on 2 May 2021
review stating Wet & wild
Myself & wife agreed too give this a try & well we weren't disappointed..
Well packaged and prompt delivery.
Very well made tho a little tight too slip over my erect shaft even with some lube, but once on let's just say WOW
She loved it and went from position too position giving multiple explosive orgasms.
***** Love honey on a impressive product.
Bottom Line:
⭐⭐⭐⭐⭐ love honey
On Lovehoney Mega Thick 2 Extra Inches Penis Extender with Ball Loop
Best sex toy so far
Review by Robm on 30 Apr 2021
review stating Best sex toy so far
I've never written a review but this deserves one!
Firstly just like to say our sex life before this was amazing and upto nowWe have only used it twice so far however...

My experience....

I bought this to spice things up a bit plus my Missus has never had a big one before (I'm only average) so thought I'd put her curiosity to bed.

I suggested it to her and she agreed to try it, when it turned up both our faces dropped at the size!

After a few drinks that night we got things going and I put it on.
Little bit of lube inside and it slides on easy, really snug fit although a little heavy.
The size when you look down is astonishing.
I'd not even had it on 10 mins inside her and she had to stop me (can't handle another orgasm) she had multiple orgasms and squirted! I'd never heard her moan that deep and hard before it was amazing to be able to give her that feeling However she did say it was sore too (prob my fault not knowing how to use such a large member and going for it straight away)
She said after she calmed down that she didn't enjoy it as much because she couldn't control her orgasms as it hit all the spots at once. No hardly any build up, just sudden intense orgasms. she prefers me (however the moans/squirt and violent leg shaking tells me otherwise)

Second time we used it was totally different.
I spent plenty of time on foreplay, used a vibrator in her while giving oral then ditched the vibrator and used the mega in her while oral.

This seemed to relax her much more and wow did she love it! First time she didn't really move much, this time she was pushing back, legs behind her head moaning the house down and ripping the skin off my back. She was taking the full thing pounding hard, because i was really going for it I'd keep asking how It feels and every reply was (it's is amazing)

Anyway to conclude;

I highly recommend the mega 2"
The feeling I get from watching this massive thing going in and out and giving her mind blowing orgasms is amazing.
Lads this will 100% give them stronger harder orgasms, just don't let that dishearten you like it nearly did me after first time. (Quickly got over it lol)

My tips:
don't go firing in straight away.
Build her up, take your time to begin with and use plenty of lube.

I found using the Mega 2" as a dildo on her first really helped open her up and relax her.

Good luck.
Pros:
The added girth, the orgasms it gives the missus!
Cons:
Little bit heavy but that is irrelevant when it's in her
Bottom Line:
Worth every penny, absolutely love using it on her
On Lovehoney Mega Thick 2 Extra Inches Penis Extender with Ball Loop
We loved it
Review by LHCustomer on 24 Apr 2021
review stating We loved it
I'd never considered buying a penis extension before, but I was browsing the site, happened to see it and thought why not. I bought:

Lovehoney mega mighty 3 extra inches

Plus

Lovehoney mega thick 2 extra inches

We went for the clear version of all of these, as I wanted to see my penis and how far it was going in etc.

My girlfriend was a bit worried at first, but soon that worry turned into ecstasy. We first warmed up with an old purchase (Lovehoney textured sensual glass dildo). It's an average size for warm up. Then another old purchase (Lovehoney curved G-spot sensual glass dildo), which is bigger.

Then it was time to try the mega mighty 3 inches. This was my first time putting it on, and have to say it was fairly straightforward. Even managed to get the balls hooked in (albeit it does squash the balls a bit too much for my liking).

I found it a bit difficult at first, not wanting to hurt her, and because there is far less sensation, and especially in missionary, it's really difficult for me to see how much I've inserted. But nevertheless, we were both loving it.

Next tried the mega thick 2 inches. This really looks girthy! Went very slow at first, but eventually she took it all in and was loving it. She climaxed pretty quickly and heavily!

We then ordered

Lovehoney mega mighty 1.5 extra inches
Lovehoney mega mighty 2 extra inches

Reason being that I want something shorter that I could really go to town with, without having to worry about inserting too far and hurting her.

Tried the 1.5 first, and as other people have said, I couldn't even get it on. So abandoned and went for the 2 extra inches. Again she loved it, and so did I. We both ended up climaxing.

What went from a nervous purchase has now gone to a regular use. We've only had them a fortnight, but we've been using them all the time. I'm sure eventually it'll become a 'once in a while' toy, but the constant use for now highlights how much we're both loving it. I always let her point out the toys she wants to use (if any), and so far since purchase it's been these every time!

She likes the extra size and I love giving her a good f*ck with them on. Not often use that word in a loving relationship, but at the end of the day, that's what these particular toys are all about. I love the extra confidence to be able to give her a good f*cking, and she loves it too.

I'm sure we'll continue to use them! My next thing is seeing whether she'll be brave enough to go on top, so she can drive the level of deepness and I can watch it go in better. She's a bit nervous, but we'll see.

Pros and cons:

- The 1.5 inch version has been binned.

- I seem to climax using the 2 inch mighty, but not the 3 inch mighty or 2 inch mega. It could be because there is more room for my penis to move back and forth, or it could be a coincidence. Time will tell.

- The 2 inch mega is VERY big and she had some spotting the day after. But even so, within days she was asking for it again. So the mega is definitely the more 'occasional' toy out of them all.

- None of them are the perfect size. Ideally I'd like the length of the 1.5 inch mighty, with the inner hole the size of the 3 inch mighty, and the girth of the 3 inch mighty. Hope that makes sense! Because then I could really give her a good f*ck without having to worry about it being too long. (The mega falls into this category of not being too long, but it's too girthy for a good f*ck). So for now, I love using this toy, but the fantasy of really f*cking her hard has not happened. Too worried!!

- The 3 inch mega seems to occasionally collapse a bit at the tip. It ends up going flat rather than rounded. Probably due to the material not being too stiff (this is also a definite plus point - if they were too hard to the touch then I don't think she would be able to take them).

In the interests of fairness, I'll let my partner write a few paragraphs too. Here goes…

My first thought when my partner and I opened these up was "big".

Big big.

Unsurprisingly, I was very nervous about using them the first time. In fact we sat on the bed before we did anything with them and I just held the larger of the two and said "big".

Super big.

As with anything in sex, the more nervous you are the more you tense up and the less you enjoy it so the first experience took a lot of warm up and even then they did both hurt on insertion and we had to keep it quite slow.

However, we did manage to work up to the biggest one and I ended up cumming so hard I briefly lost sensation in my feet at the time of climax.

There was definitely fallout from my tension as I spotted a lot the next day and I was achey, so didn't return to Gerta (as the largest is now called) for another couple of weeks. However, we then got the two slightly smaller extensions and between the four of them we've used at least one of them pretty much every time we've had sex. Now that I'm used to the sensation I'm not so nervous and this has helped with the pain and the spotting, and I don't think we'll stop using them any time soon.

Another plus which I am a big fan of is when we use the medium extension (the second smallest of the four) there's enough sensation for my partner to cum too, and then all of the mess is neatly contained and we don't get a wet blob in the bed! Wins all round.
Cons:
Not quite the perfect size - read the full review!
Bottom Line:
I felt amazing and so did she. A surprise hit. A must buy!
On Lovehoney Mega Thick 2 Extra Inches Penis Extender with Ball Loop