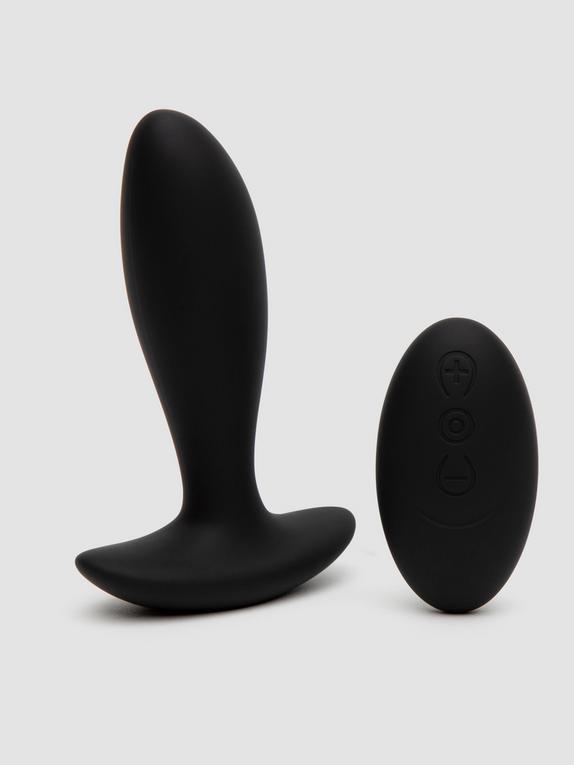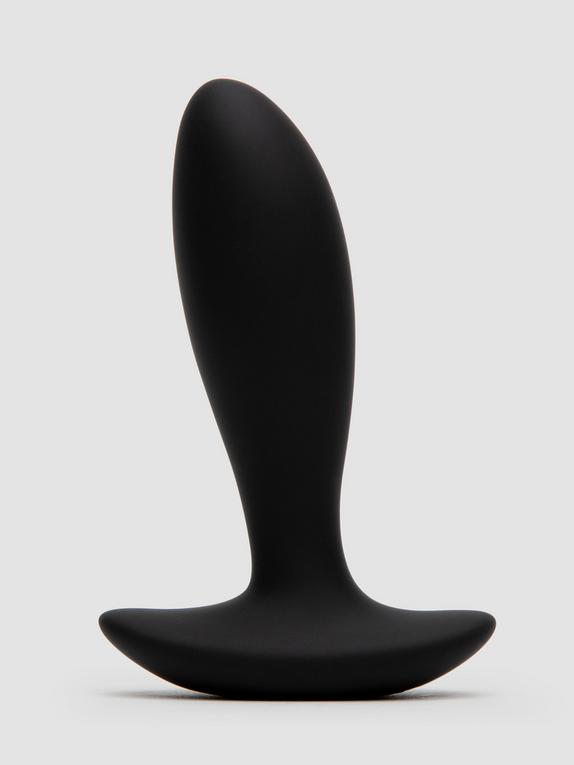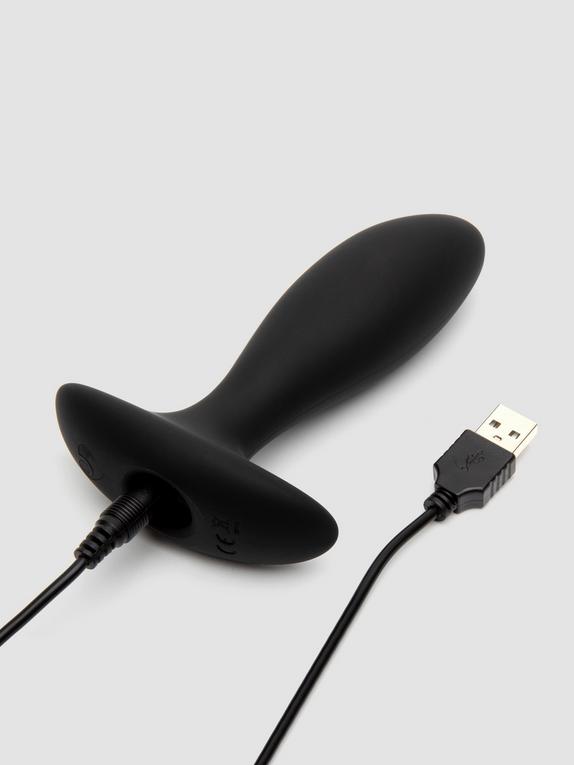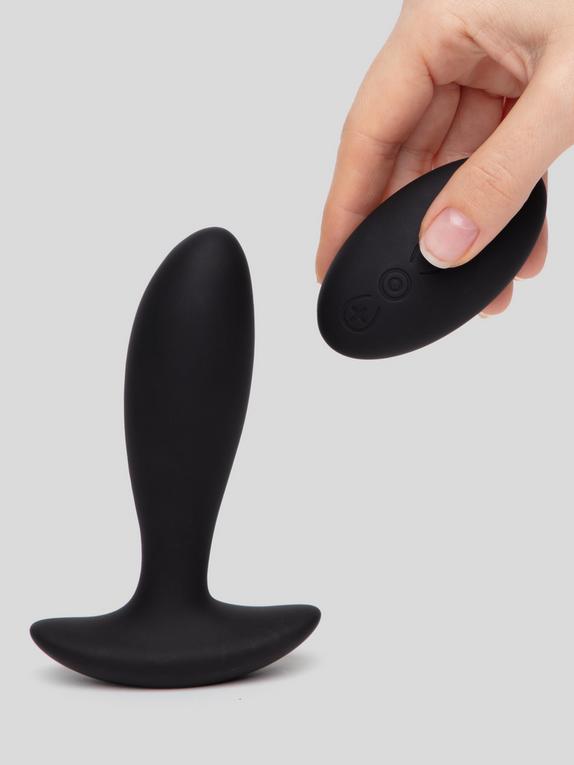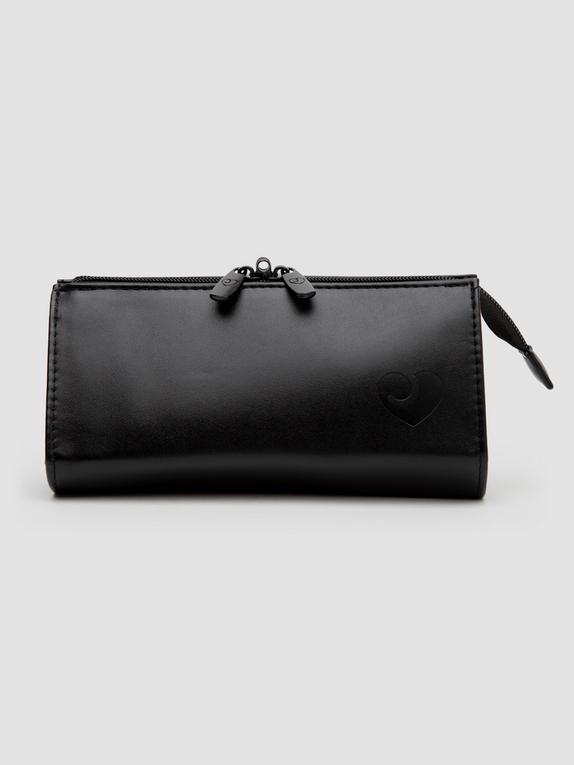 Desire Luxury Rechargeable Remote Control Vibrating Butt Plug
Last chance! This product is not going to be re-stocked!
Sleek silicone vibrating butt plug with remote control operation for thrilling couple's play
8 patterns and 12 levels of intensity so you can find the perfect setting for you
USB rechargeable for worldwide use and eco-friendly play
Features a travel lock for peace of mind during transit
Butt plug is entirely waterproof for fun in the bath or shower
Exquisite anal pleasure could be yours at the push of a button with this smooth silicone butt plug. Relinquish control and leave your lover in charge of the remote control while you revel in 8 patterns and pulses, with 12 levels of exhilarating intensity.

Made from velvety silicone, this rechargeable vibrating butt plug delivers incredibly satisfying sensations. Use this versatile toy with or without the remote control for solo or shared pleasure.

For the best experience, always slather your toy with water-based anal lubricant prior to play.

Desire is a collection of luxurious sex toys expertly designed by Lovehoney with only one thing in mind: ultimate sexual happiness.

Please note: while the butt plug is waterproof, the remote control should be kept dry.
Essential Info

Allergens: Latex-Free , Phthalate-Free
Features: Flared Base , Rechargeable , Remote Controlled
Waterproof: Submersible

Power and Speed

Power Type: Rechargeable
Run Time: 50 minutes
Vibration speed: Speeds and patterns

How it Measures Up

circumference: 4.25 inches
Insertable Length: 4 inches
Length: 5 inches

How it Feels

Flexibility: Flexible
material: Silicone
Anal Sex Toy Advice
Looking for a new Anal Sex Toy but not sure where to start? Our guides give you everything you need to help choose and use the best anal toy for you.
Frequently bought together
Popular combos for more sexy fun
Customer reviews
4.4
4.4 star rating
5 Reviews
4.4
4.4 star rating
5 Reviews
Thank you for posting a review!
We really appreciate your opinion and hope to see you again soon.
Thank you for posting a review!
Your review was sent successfully and is now waiting for our staff to publish it.
Search reviews
5.0 star rating

4.0 star rating

3.0 star rating

2.0 star rating

1.0 star rating
Loved it, suited all my needs
Review by E. J. on 5 Jan 2021
review stating Loved it, suited all my needs
My girlfriend and I got this for either of us to wear when we are out in public while the other had the remote to control when it's on and off and it was GREAT fun. It has 8 different patterns of vibrations for you to enjoy AND has 12 levels so you, or your partner, can choose what level of vibrations you experience. I wore the plug while we was outside and it was very quiet and made little to no sound when inside me and due to its shape it stays in you easily and doesn't slip out, it's vibrations really pack a punch and it actually reaches my prostate making it extremely pleasurable vibrations for me at the fingertips of my partner to control. I ended up having an orgasm from the vibrations and ejaculated into my pants (whoops) but I couldn't help myself as the vibrations pushed me to incredible levels of ecstasy and gave me an incredible orgasm.
Pros:
Powerful vibrations, stays in.
Cons:
Nothing, I didn't like.
Bottom Line:
Amazing product that anyone will enjoy.
On Desire Luxury Rechargeable Remote Control Vibrating Butt Plug
I love it
Review by Max L. on 1 Jan 2021
review stating I love it
Matetial is really soft to the skin. Vibrations are really pleasurable, and the remote control is a really nice way of turning it on and off. I usually wear it at work, where I sit behind a computer, and I sometimes give my remote to a coworker to turn it on whenever she likes, and it's so much fun. The main upside it has is the design of the base. I don't like the round base designs, because it hurts my butt, but this one feels really good.
Pros:
Everything, vibrations, the base, how easy it is to insert.
Cons:
I liked everything.
On Desire Luxury Rechargeable Remote Control Vibrating Butt Plug
H
Happybunny
5.0 star rating
Give up control and give into the pleasure
Review by Happybunny on 7 Nov 2020
review stating Give up control and give into the pleasure
This product was kindly sent to me to review for Lovehoney :)I was so excited to receive my parcel from Lovehoney containing this beauty. It did not disappoint, the packaging was super luxury in a sleek box with a handy lockable leather look pouch for your toy! I was super impressed with this addition, the zipped pouch would be perfect for a naughty weekend with room for your new toy and some lube! After I opened the pouch I was surprised there was some charge in it already! I surprised the OH with the new addition and he was excited to be involved with using the remote. This was our first remote-controlled toy and won't be the last!The plug itself is quite large so I think I would recommend trying out a smaller more basic plug for beginners. However, for anal enthusiasts this plug really fills you up and has deep rumbling and patterned vibrations. The vibrations are strong throughout the plug, making it even more intense, they aren't only pinpointed in one place. The shape is comfortable and slides in easily with lube. The base is very wide so there is no worry of it going further that you would like it. However with this base shape, it may make having intercourse while wearing the plug quite difficult.There are so many settings to explore, another fun thing about a new vibrating toy :) The only con is the highest setting can be a little painful because it is so strong, but with the help of the remote you can build up to whatever feels best for you! The remote is very simple to work and very discreet so you could definitely have some outdoor fun with this! Remote control play also opens up power play, orgasm denial and edging if you are into any of those.Overall it was a super positive experience for us trying our first remote-controlled toy/butt plug. I really liked giving up control and just enjoying the sensations and my OH loved having more power with the remote. It really does feel luxury and well made and would be fabulous gift for your OH coming up to Christmas ;)
On Desire Luxury Rechargeable Remote Control Vibrating Butt Plug
Good beginners toy with a stable remote connection
Review by Rockstar on 28 Oct 2020
review stating Good beginners toy with a stable remote connection
I already own a couple of remote control prostate massager but, due to the design of their bases, they are not very comfortable for wearing for an extended time so I was really looking forward to testing this plug which looked far more promising.The toy arrives well packaged in a cardboard box along with a USB charging lead and an instruction booklet.As usual the first thing I did was to put the toy on charge. The switch and charging socket are recessed into the base of the plug. This protects the switch from being accidentally operated when wearing the plug but it remains accessible should you need to reach it.Charging from completely flat takes 90 - 100 minutes but the run time is impressive. It ran for 2 hours on a medium speed continuous pattern. To conserve the battery the toy switches off if not activated for a while so you have to manually switch it back on if you want to continue to use it.The toy is 4.5 inches diameter at it's widest point and is slightly oval in cross section. With water based lube it slipped in easily and felt very comfortable. I wore it for around 3 hours on my first try. The neck (the narrowest point) is 2.5 inches diameter and the taper is quite gentle and this feature was problematic for me. When I was sitting down the toy was comfortable and secure but when I was standing it felt as if the toy was slipping out and, in fact, it did slip out after I had been wearing it for a couple of hours at a music venue. Fortunately I was alone in the gents toilet at the time so I was able to grab it and clean it up. It really needs a narrower neck in order to be really secure.The vibrations are quite powerful ranging from a low frequency rumble to a high frequency buzz and there is a good selection of patterns. The low frequency vibrations are quite quiet and you could get away with using the toy in a restaurant or similar venue but the high frequency vibrations are loud and could be clearly heard, and felt through the furniture, by my wife who was operating the remote control at the time.The instructions claim that the toy is fully waterproof but the charging socket on the base is totally uncovered so, to be safe, I blocked it with my finger when I was cleaning the toy. As with all silicone anal toys, once used, there is always a residual smell no matter what cleaning agent is used but this is something you simply have to accept.Overall I was pleased with this toy but it would be more suitable for a beginner than an experienced user of anal toys as the design makes it less secure that it should be.
On Desire Luxury Rechargeable Remote Control Vibrating Butt Plug
P
Pleasure D.
3.0 star rating
Beautiful design and powerful vibes, but this is not a "butt plug"
Review by Pleasure D. on 23 Oct 2020
review stating Beautiful design and powerful vibes, but this is not a "butt plug"
PACKAGING:This item comes in a smart black and purple box that shouts luxury - I half expected it to contain an assortment of dark chocolates! It's the sort of box no-one would be ashamed to give - or receive - as a present for that special occasion.Inside is a soft black leatherette zipper-pouch with a subtle LH logo on the side - so subtle that you have to angle the light just right to see it at all. You could walk into a hotel lobby clutching this and no-one would suspect a thing.The pouch is in two sections. In one side is the toy and its remote control unit (in a sealed plastic bag); in the other side is the charging lead and a little instruction booklet - and I mean little: the print inside the booklet is so tiny that even using my strongest reading specs it was a struggle to make out. One section of it is called "The small print". Come off it, guys - it's ALL small!THE TOYThe toy and its remote are made of the loveliest, most velvety-smooth silicone I've ever encountered! Again, the effect is of luxury: handling it is a pleasure in itself. I found myself having to resist the temptation to keep stroking it like a pet!It is a pleasingly-shaped thing, all gentle curves and asymmetry, and it is because of its shape that I must take issue with the name it's been given. The wording on the box says "butt plug", but it really ISN'T one, because it doesn't "plug" you. It has no defined "step" where the head of a typical butt plug suddenly narrows to a stem, enabling the user's sphincter muscles to hold it in place without effort. This toy's shape is much closer to that of an Aneros-style prostate massager. So, even before use, I was sceptical as to whether it was going to stay put inside me. I've tried a few prostate toys in the past, and they've all had a tendency to fall out. I was REALLY hoping that this elegant beauty wouldn't do likewise.On the underside of the T-shaped base there is a round, shallow depression about the size of a 1p piece, where live the on/off switch, a hidden LED and the socket for the charging cable. I was surprised to find that this socket has no protective sealing-cap of any kind. I would have thought such a thing essential in a toy that is meant to be used in combination with plenty of water-based lube. I would be worried about lube (and washing water) getting into the socket and shorting the terminals.CHARGING AND SWITCHING ONHaving read the instructions with the aid of a magnifying glass (I'm not kidding!), I plugged it into a suitable USB socket and left it to charge. While charging, a small white LED in the base flashes. When charging is complete, the LED glows continuously.Before it will work, you have to take the battery transit strip out of the remote and the toy has to be put into "standby mode" by a long press on the power button on its base. Entering standby is confirmed by a brief flash of the LED.I pressed the mode button on the remote ...and the toy, which had been lying on its side on the table in front of me, leapt into such vigorous life that it shot away across the table under its own steam! I grabbed it and held it in my hand as I stepped the remote through its patterns. It vibrated with such force that it made my fingers go numb. Switching it off, I considered just what effect those vibrations were going to have, once it was working away inside me. Yikes!USING THE TOYPrepped and nicely lubed-up, insertion was just as easy as you'd expect from a toy of this shape. Then came the first problem: it wouldn't switch on. Repeatedly I went through the "standby / switch on" routine, but no joy, so I pulled it halfway out, tried the routine again and it kicked into life.The vibrations, while plenty strong, were not - I'm glad to say - the eye-popping fright-fest I'd been half-expecting. I stepped through the various patterns and strengths and found everything obeyed, exactly as designed. And did it stay in place? Well... sort of. It never slipped out entirely, but neither would it stay fully inserted. With no defined "step" to stop it, the toy kept sliding back out of me by about 2 inches. The only way I could keep it fully in was by using a hand or by squeezing my buttock muscles - good Kegel exercise, I guess, but not what this toy is for!...and what of pleasure? Did this buzzy beast bring me to a shuddering, prostate-enhanced orgasm? No. For two reasons:1. After a while, having such powerful vibes going on inside me had a numbing effect: it actually made me LESS turned on.2. So preoccupied was I with trying to keep the toy in place, I lost my erection. To be completely frank, the toy was more of a distraction than a help.This is not a failing of the toy itself, though. I'm sure many people will find it supplies exactly the stimulation they're craving. For me, though, it was all a bit of a dead loss.
On Desire Luxury Rechargeable Remote Control Vibrating Butt Plug