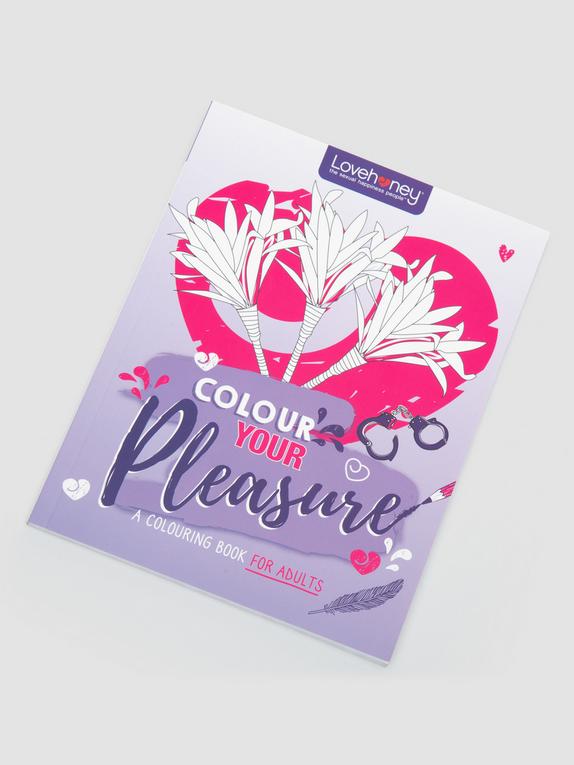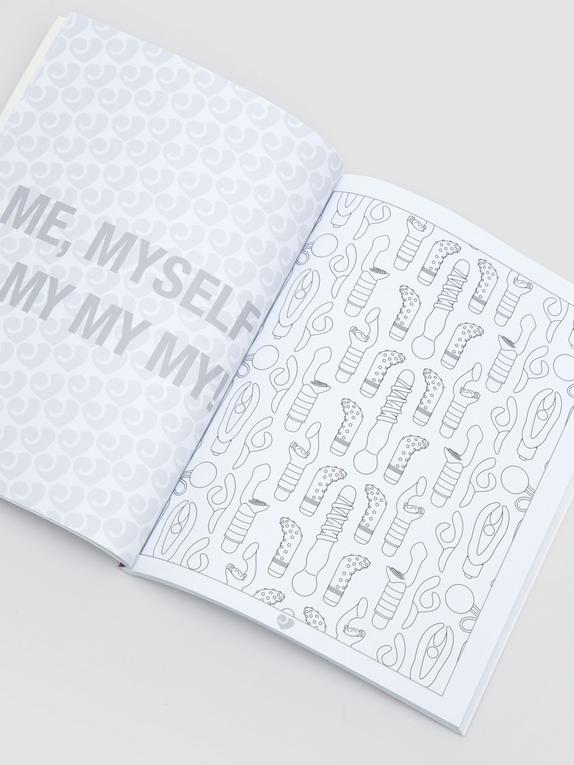 Lovehoney Colour Your Pleasure Colouring Book
Last chance! This product is not going to be re-stocked!
Adult colouring book for cheeky gifting and hours of relaxing activity
The perfect gift for a friend or lover
A mindful activity to help calm your mind
Whether their art is 50 shades of grey or red hot, your lover will be tickled pink by this colouring book. With an array of saucy illustrations to decorate, this cheeky gift may be the black sheep of the book world, but others will be green with envy.

Putting a sexy spin on the adult colouring book craze, this fun offering gives your lover a relaxing activity, all while telling them exactly what's on your mind.

Each page is bursting with a kaleidoscope of patterns, all just waiting to be decorated. From a spirograph made of vibrators to elegant patterns formed from spanking paddles, this colouring book is sure to keep them busy – until you're ready to get busy.
Better Sex & Foreplay Advice
Our guides to sex essentials such as lubes and condoms give you everything you need to help you get the most out of your sex life.
Frequently bought together
Popular combos for more sexy fun
Customer reviews
4.5
4.5 star rating
6 Reviews
4.5
4.5 star rating
6 Reviews
Thank you for posting a review!
We really appreciate your opinion and hope to see you again soon.
Thank you for posting a review!
Your review was sent successfully and is now waiting for our staff to publish it.
Search reviews
5.0 star rating

4.0 star rating

3.0 star rating

2.0 star rating

1.0 star rating
Relax and Focus
Review by Mint-Monster on 17 Mar 2021
review stating Relax and Focus
Many thanks to Lovehoney for sending me this to review.

In these unsettling times, I find myself being drawn more towards doodling and colouring books just to wind down in the evening. I also like to do them during work as it can help me concentrate. Well, definitely working from home that is. I don't think it's the most office friendly, is it? There's nothing that rude or smutty in it - mainly sex toys that you can find on this website. Even the front page looks pretty cute and flirty. Quite tame overall, but maybe that's because I'm used to all this.

There are 30 projects in total which range from simple to god-level complexity! As with any decent colouring book, the page under the colouring one is usually left blank to prevent it bleeding through to the next project. Lovehoney have been a tad more creative by covering it with the logo pattern and having a funny quote to accompany the project on the other side. I'm not sure if this is intentional or not, but there's no page/illustration numbers. However, there's an LH logo under each project where I think they would probably be. Or maybe they're tick boxes? Either way, I've just been writing numbers in there myself.

If you shop on the site regularly then you're sure to recognise a few goodies in here. Toys and kinky accessories are the focus. I guess the outlines aren't that impressive by themselves - it's when they're swirled and spiralled into mini works of art that's the real eye candy, though. Almost like naughty snowflakes. These can be rewarding to complete and look fondly upon with some being more challenging than others.

One of my little gripes is that the outlines can be super skinny which makes it much easier to go outside of them by accident. Please excuse me while I grab my magnifying glass. Ahh! It's like it can be relaxing and formidable at the same time (unless I just suck at colouring)? Maybe I'm over thinking. So long as you have fun that's all that counts, right? I also noticed that some of the lines seemed to cross over each other or get cut off near the bottom of the page? Intentional maybe? Not a big issue, just a nit-picky observation.

Some of the same toy outlines are repeated throughout the book, so it can get a tad repetitive at times. I know LH have a wide variety of toys so I'm surprised more weren't used. For example, there seemed to be a lack of butt-plugs despite having quite iconic shapes. However, most of the page patterns/designs change it up enough to keep things more interesting. I wish there were more toy outlines thrown in or even human ones with them - mainly so I can give them mad, alien skin tones.

The size is decent for a colouring book as it's small enough to carry around or stash in a drawer. The paper stock isn't bad and will generally take whatever you dish at it. I used a range of pens and pencils and they were fine. The only thing that bled through were marker-like pens and even then it didn't affect the next project. My favourite tools were coloured biros and standard felt tips. Fine liners also came in handy for some of the more complex designs.

I've actually had another sex toy colouring book in the past, but this Lovehoney one is more fun in my opinion. It would make a cheeky little gift for someone who enjoys adult colouring books. Quite pricey at £10 for what it is, though. It can lack variety in places, but some of the page designs are pretty jaw-dropping even before you start colouring. I like the way there's a range of complexity depending on your skill or mood, too. For a small book, it will definitely keep you occupied for a while and maybe even give you some ideas for future purchases.
Pros:
Creative patterns. Size. Mix of difficulties. Rewarding results. Will keep you busy.
Cons:
Skinny outlines. Repetitive images. Pricey.
Bottom Line:
Nice to wind down with. It's also like an advert for Lovehoney goodies.
On Lovehoney Colour Your Pleasure Colouring Book
Fun colouring book
Review by Lovehoney L. on 28 Feb 2021
review stating Fun colouring book
This really gives adult colouring books a whole new meaning! Such a cute colouring book and not too big either so great if you're just getting into them - as I have been over lockdown! The illustrations, patterns and design on the front cover are beautiful too so I feel like this could make a great gift for a partner.
Pros:
Beautifully designed
On Lovehoney Colour Your Pleasure Colouring Book
Great addition to my growing colouring book collection
Review by Lovehoney T. on 18 Dec 2020
review stating Great addition to my growing colouring book collection
I'm really enjoying this cheeky little book filled with a mixture of designs to colour, all made from products available on the Lovehoney site. The pages are good quality and I imagine they could hold up to a light water colouring (haven't tried it yet though!) and I love that there's a 'break' page between each colouring, more colouring books need this feature so that the colours don't transfer when you return to a previous design.The cover and spine are nice and subtle, so no need to hide this one away, it's currently seated nicely with all my other books. However, it is small enough to tuck away or travel with if desired.
Cons:
Some of the 'kaleidoscope designs' are tricky to colour.
Bottom Line:
Very fun for any fans of colouring books.
Pros:
Wide range of designs to choose from.
On Lovehoney Colour Your Pleasure Colouring Book
Great gift
Review by Fizzy on 13 Dec 2020
review stating Great gift
Colouring and sex are two of my favourite relaxation hobbies and this book combines them beautifully. I'm a fan of adult colouring books I find them very relaxing and enjoy playing about with colours so I couldn't wait to get my hands on this fun little book. The book is a good size for holding and colouring. The images in the book cover a wide variety of items Lovehoney sells from sex toys to nipple tassels, providing multiple colouring options. The only thing I didn't like about this book was the quality of paper . I like my colouring books to have lovely paper but that's just me being picky! I'd like to see lovehoney making different versions of this book with couples having sex in it and men to colour. This is a great like book and would make a perfect gift for anyone who likes colouring and lovehoney.
Cons:
The quality of paper.
Bottom Line:
A great gift for yourself or others.
On Lovehoney Colour Your Pleasure Colouring Book